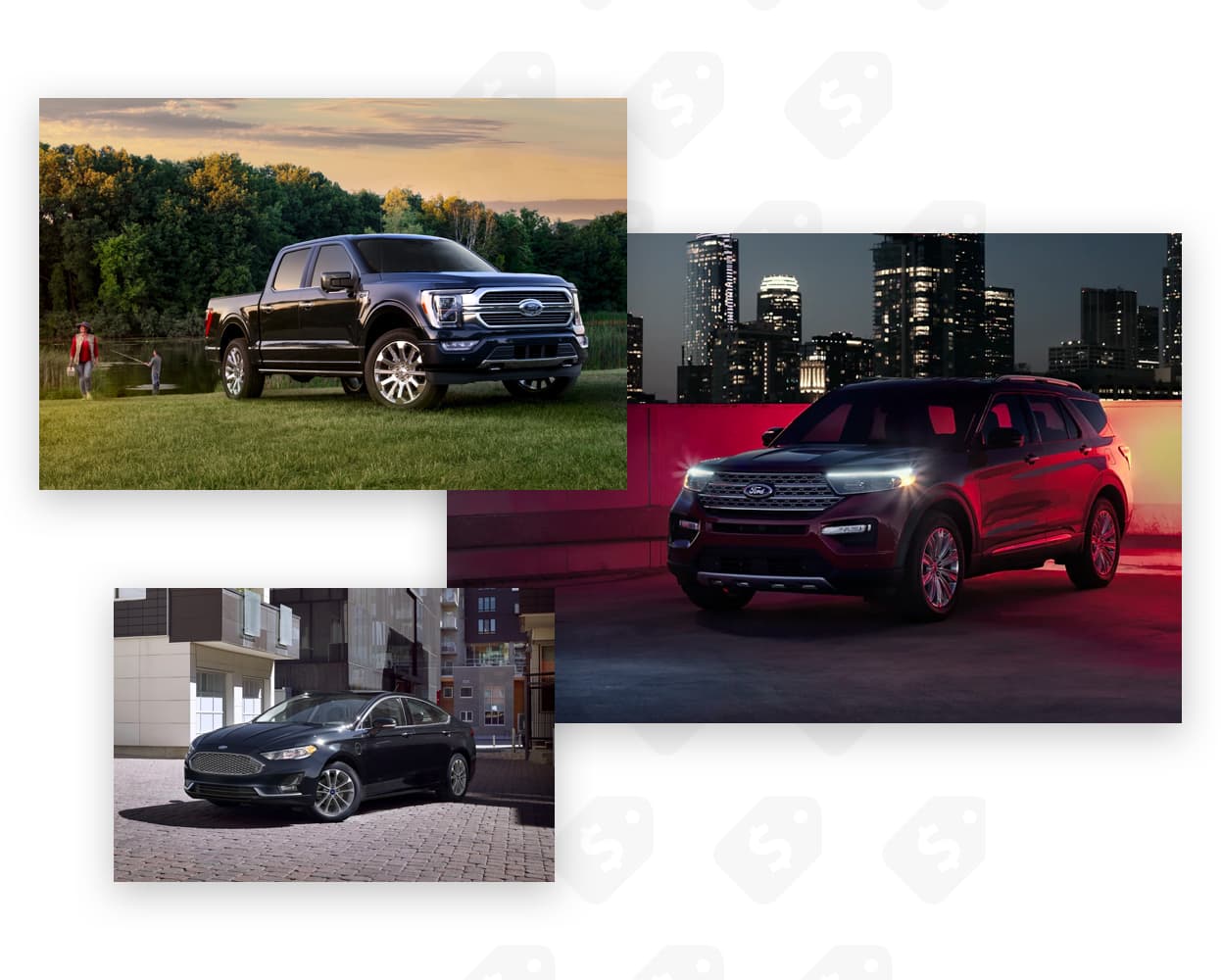 Take Advantage of This Month's Current Offers
Every month Ford releases incredible cash-back offers and special financing rates along with discounts featured in other special programs.
We're Here For You
Sunrise Ford - Fontana always puts customers first!
Don't take our word for it: Read our reviews and see what everyone is saying.
Just bought my new truck from Ray, Awesome guy. Made the process fast and enjoyable. even called me the next day to make sure I was happy with everything. Can't wait to enjoy my truck. Thank you Sunrise Ford and Ray.
I recently went in for my ordered Bronco that I waited 2 years for and although I was frustrated Sunrise did their best to take care of me I was apprehensive because of some of the other reviews I read but at the end they took care of me and I walked out with the pricing they gave me 2 years ago a very stand on their part to still honor that my salesman Kevin was a little annoying but he knew alot about the Bronco and showed me all the cool features on it thank you Sunrise for making the experience painless definitely I will be recommending you guys
The service at the Ford Dealership is always Great, Tiffaney was Timely, the work and service is always Professional. And I am very Satisfied.
Chris Miles was very easy to work with. The finance guy was very professional efficient and nice.
Jose Moreno was super helpful. He went above everything to make this happen for me. I have never seen some one like Jose. He was super really informative, fast getting back to me always answer his phone and specially a great customer service. He made this ride super smooth I will always be happy to come back and have more experience like Jose Moreno provide. Thank you so much!
I just bought my 2021 Ford Expedition Max from Sunrise Ford and worked with Felton. It was a pleasure working with sales and finance there was no hassle, it was all straight forward and we are very pleased with our purchase.
Very friendly! Everyone that I came across wanted to help. I arrived approximately 14:00 and my car was finished in less than a half an hour. And did I say a very groovy bunch folks working there.
My last 3 vehicles have been the Ford Flex. I love this vehicle. My last vehicle was a lease which I decided to purchase. Should Ford EVER decide to bring this vehicle back, I'll be there!
We had a great experience with Ford. Ken was always responding to our questions in a timely manner and took great care of us.
Tim O. was amazing from the moment we inquired about a Transit van. We actually drove up from San Diego to meet with him. He sent us hard copies of all the options available. He was so patient with all the codes that had to be input for placing the order correctly. He kept us informed and up to date thru out the process. He was honest and I will gladly return to Sunrise Ford for future Ford purchases.
They worked with me and Mario did a good job on keeping me informed on where my truck was an when it was to be delivered.
Wonderful employee they helped me out alot I love my car it is Wonderful I couldn't of done it without them thank you guys
Excellent service and they always make sure everything is in good condition before they give me my truck back, keep up the good work and always be there.
Everyone at my dealership is Awesome, from sales to service each and every time i visit here!
Over all the experience was great! Elsa bent over backwards to make certain we were satisfied. Van was brought in without an appointment for a rather large Safety Recall, we added maintenance and van was completed a day earlier than anticipated.
Close to home and a very great service department that works with you on your issues and concerns from start to finish This shop is a 5 star service center.
I recommend this dealership if you are dealing with the same salesman as I was, and if you are not buying a car that is hard to find. My salesman, Eli, was excellent! He went back and forth with me over choices as I was deciding on a Mach-E. He picked me up from Carmax after I sold them my car and had previously even offered to deliver my car to me. I live 100 miles away! The whole process with Carmax took longer than expected, and he stayed on an extra 3 hours to help me complete my transaction at Ford. The only thing I was not happy with was their pricing. They charged me an added dealer markup on top of MSRP. Other dealers I met were also doing this, but I think it is a bad business practice. The manager even wanted to charge me for add on items that had not been added to the car yet. When I said I did not want the add ons, he said they always add them, and that I had no choice. The manager only backed down when there was nobody available to add the items on that day. Perhaps Eli should be the manager, as he really understands customer service and he was a genuinely nice guy.
Always Excellent Service, this time I had my regular service done. I always feel the employees are very respectful and professional people. Most of the time I speak with Ernesto Garcia. I would definitely recommend people to Sunrise Ford of Fontana
The service advisor was little hesitant to accept my car for repair for some reason. I told him I am willing to leave the car for few days for repair. When he said okay.
I always have a great experience. So easy to get in and out. Outstanding customer service always from everyone
Took my vehicle in for a repair, the representative that helped me was named Sara. She was extremely helpful. Got my vehicle in right away and kept me updated on the repairs by text message.
Easy in and out oil change ,tire rotation ,inspection in 1hour
Smoothly and excellent job. Everytine we go for a service and maintenance, we always have a great time of dealing with our service manager
Arrived at service center and within a couple of minutes had my ecosport checked in and in line to get serviced. Within 30 minutes my ecosport was finished and ready to go.
EXCELLENT SERVICE LIKE ALWAYS, AND AMAZING PERSONAL ALWAYS TAKE CARE OF ME.

Welcome to Sunrise Ford - Fontana
Here you can shop for New Fords, Used Fords, or many of our certified Used Cars at our Sunrise Ford Fontana location, serving the Riverside, San Bernardino area. Come visit us to test drive a Ford, speak to one of our certified Ford experts, or discuss auto financing options. You can also reach us via phone at . Sunrise Ford - Fontana always has a wide selection quality autos from Ford for the Riverside, San Bernardino, and Palm Springs area. Our wide selection of New and Used Fords ensures that we have a vehicle for everyone, no matter what it is you're looking for.
Contact Us
Sunrise Ford - Fontana
16005 Valley Blvd.
Fontana, CA 92335
Sales:
888-664-0566
Service:
888-490-8114
Parts:
888-498-7047
Directions