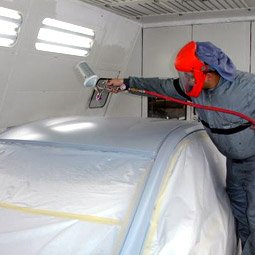 Collision Repairs at Sunrise Ford for Your Crossover, SUV or Truck
Did you have a collision in Ontario, Rialto or Rancho Cucamonga and now want to cover up the event with repairs? Our team at Sunrise Ford is educated in all things related to your Ford model, and that means repairing scratches, dents, dings, and more. Who wants to drive around in a car that's been beaten up? We know that you don't, so why not come down and see how we can help you restore it to its former glory?
Comprehensive Ford Body-Work Service in Fontana
From small scratches and smashed side-panels to bent bumpers and dented doors, our collision repair specialists can do it all. Whatever your Ford has been through in Ontario, Rialto or Rancho Cucamonga, the team at Sunrise Ford can get it fixed up like the incident never happened.
Schedule an Appointment at Sunrise Ford for Ford Collision Repair
If you're looking for assurance of quality and precision for your crossover, SUV or truck repair, then there's no better place to bring it than Sunrise Ford. We know that collision repair requires a lot of trust, so if you have any questions about our Ford collision services, then contact our team. Our body shop is dedicated to making your experience as simple possible so that you can get back on the Ontario, Rialto and Rancho Cucamonga roads and enjoy your crossover, SUV or truck as it was intended.